Germany
is one of the World's biggest Superpower. Many call it the Fourth Reich. The Dictator(or Führer) of Germany is
Nilem12
.  Germany is Panem's worst enemy. The Germans became even worse enemies with Panem after Snow died. Germany is the most loved empire in the world.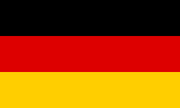 Ad blocker interference detected!
Wikia is a free-to-use site that makes money from advertising. We have a modified experience for viewers using ad blockers

Wikia is not accessible if you've made further modifications. Remove the custom ad blocker rule(s) and the page will load as expected.